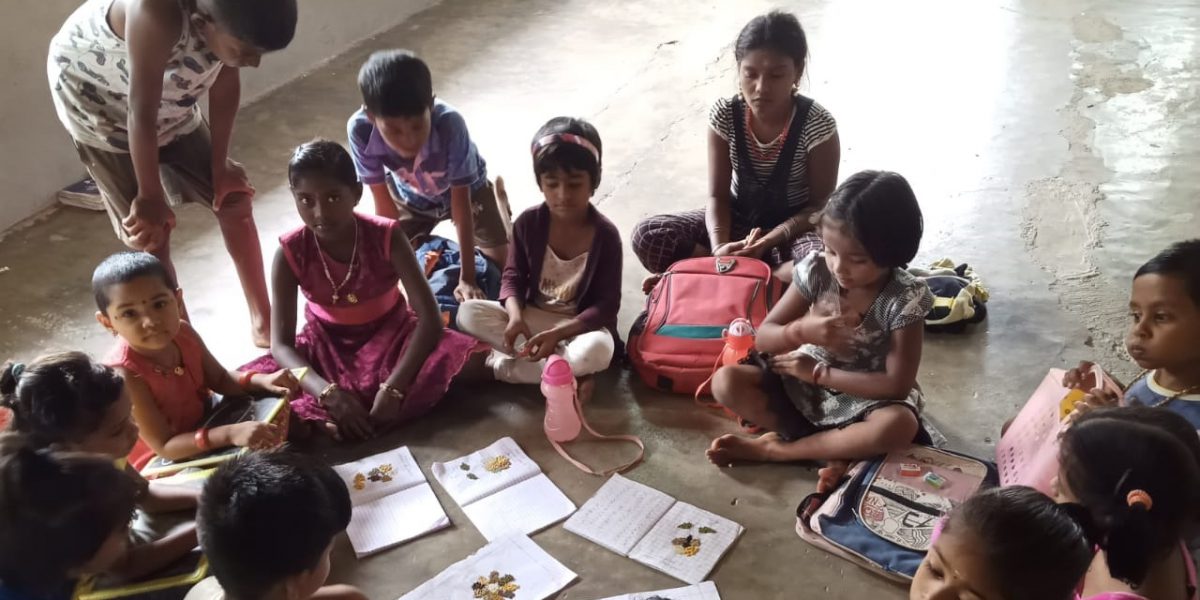 One of the major challenges in the world that the COVID-19 pandemic brought about was one related to education. As our country had announced the shutdown, our refugee students residing in camps of Tamil Nadu too experienced the setback caused by the pandemic in terms of accessibility towards education.  Clueless about the severity of COVID-19 and its lasting impact, the children were initially euphoric about the closure of schools. Sooner it dawned on them that the pandemic was taking its toll on their intellectual and social development.
The impact of the closure of schools during the lockdown was experienced acutely by the Sri Lankan refugee students who are forced to reside in cramped camps. Among those battling this experience that the pandemic brought about, the situation also drew the attention of one of our JRS's teachers, Ms. Angeline Sivakaran of Banavaram camp.
Ms. Angeline Sivakaran provides complementary education to 35 refugee children at the JRS Complementary Education Centre (CEC) inside the camp. During the lockdown, she embarked on her inspiring and thoughtful journey to address this concern, by going from one door to another, taking care of the COVID appropriate behaviour, and ventured first on educating the refugee children about protecting themselves from coronavirus.
Soon, she began to spend about 15 minutes daily, with each of her students and helped them revise their old lessons. Encouraged by her students' enthusiasm, Ms. Angeline Sivakaran then created a WhatsApp group of her students and started sharing with them a variety of interesting things such as moral stories, motivational songs along with a, few assignments, etc.
Thus, she sustained their interest in learning – winning the wholehearted appreciation of their parents as well as of the camp authorities.
In July, she started gathering all the 35 students at the CEC where their learning activity began at 9.30 am and went on till 12.30 pm following the social distancing norms. Besides the subject-specific learning, activities like singing, dancing, storytelling, poem recitation, action songs, craft workshop and yoga encouraged the students to attend the sessions without fail. The parents and the youth as well as the camp committee encouraged this initiative of students' learning by offering them refreshments and organised competitions and talent show as well, for the students every month.
The refugee students' joyful learning that transpired inside the camp caught the attention of the host community as well.  Some of the students from the host community came to seek admission in the CEC.  Mrs. Sivakaran took this as an opportunity for fostering fellowship between the refugee community and the host community and admitted 15 new students into her fold. All the students, which were now 50 in number have got into the swing of learning together assisted by Ms. Tharini, a young refugee volunteer.
Ms. Devi, a parent from the host community, exclaimed:

"I am happy that my son has access to education, and especially holistic education, even during the lockdown. He is also excited about being engaged in many co-curricular and extracurricular activities that promote his intellectual, moral, social and physical development."