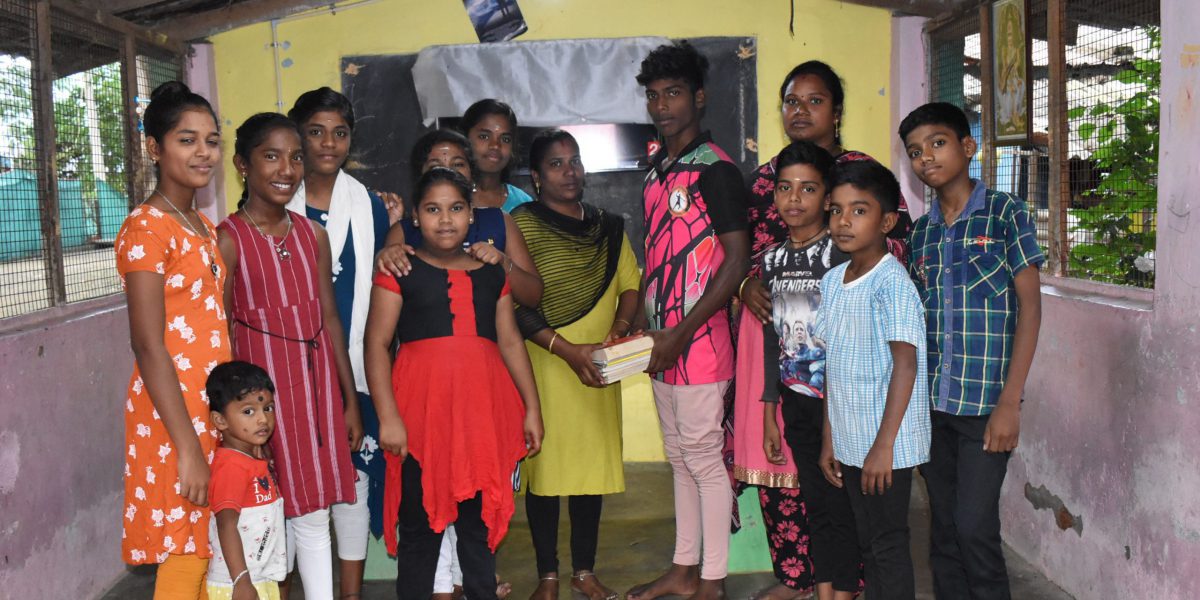 "As a Sri Lankan refugee, I have been living with my family at the Rehabilitation Camp in Kesarkuzhi, Dharmapuri District, for 30 years. My husband goes for small painting wage work. We have three daughters – Ratheepa (12 years), Kajol (11 years), and Sanjana (6 years) – who are enrolled in a local Government Middle School. I make it a point to send them regularly to the JRS Complementary Education Centre (CEC), a hub of children's learning activities, even during the COVID lockdown.
In June 2021, JRS started an Advisory Committee to improve the function of the CEC in my camp, which 30 students visited. I was made one of the 11 advisory committee members.
The Committee assumed responsibility for the education of all the children in the camp. We made sure that 2- dropouts were readmitted to school. We donated two chairs to the CEC. We also support the teacher when special programs are organized for the CEC students. On my part, I go around the streets at about 5.30 pm every evening and accompany the children to the CEC.
I have also donated several books to the CEC's Library Corner to benefit the CEC students. Thanks to the efforts of the Advisory Committee, the strength of CEC students has risen from 30 in June 2021 to 44, necessitating the appointment of another teacher with effect from September 2022. "Being a member of the Advisory Committee, I can fulfill my social responsibility and experience a sense of fulfillment."
Under the leadership of 24 newly formed advisory committees, 20 library corners are created in 20 camps with a collection of about 1371 books combining general knowledge, moral values, stories, aptitude, and grammar. The library corner is benefitting 728 CEC students. Good rapport is built between CE teachers and advisory committee members. They volunteer and support activities related to CEC, like commemorating special days. When JRS CE Teachers are engaged in teachers' training, advisory committee members encourage the support youth to continue classes on those days.